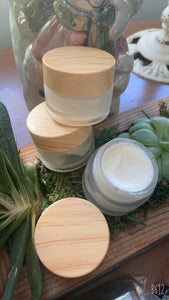 Winter is coming and we are ready baby!!! This rich luxurious face balm Will meet all of your winter needs your skin needs to get ready for a treat!
The most ultra moisturizing and hydrating facial treatment, the moment you open the jar you will smell fresh marshmallows!
DIRECTIONS 💗apply to your skin at night after you use your favorite liv free beauty cleanser. Massage into your skin all around your eyes down your neck. After you massage the creamy balm into your skin you can go to bed and let the magic happen or take it a step further and create a little spa retreat. Apply a warm wet cloth over your skin and allow to sit for a few moments while the steam works its magic!!!
something I love to do in the daytime if I have a few moments to do a little self love care routine I apply my face bomb and I take a pot of water that has come to a boil let it cool down just a little bit to create a steam. Take a towel and put it over your head and gently place your face above the pot where the steam reaches by enclosing it with your towel it will create a sauna. make sure you are careful not to get to close to the steam give it a Monday to cool down just enough. You want to be comfortable!💕💕💕💕
MADE WITH LOVE:vegan, cruelty free, all rich oils and butters, exotic ingredients that are clean and vegan. No animal testing,no parabens or chemicals ; Ingredients coming soon!💗